Illuminated Praise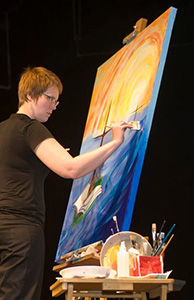 Praise be to God, the Father of lights and color.  His faithfulness never ceases to amaze me.  I am humbled that the Creator of the universe is faithful to meet me at the empty canvas time and again, allowing me to partner with him with the creative spirit in me.
Live Paintings  |  Many of the pieces here on my website were painted live in front of a gathering of people.  I painted them for many different events: retreats, conferences, camps, weddings, worship services to name a few!
Commissioned Paintings  | I welcome commissioned work, whether it's a personal commemorative piece or an illustration for a project.
Studio Work  | This is work done at a more leisurely pace in my own art studio. A lot of work done just for me or visual prayers for other people.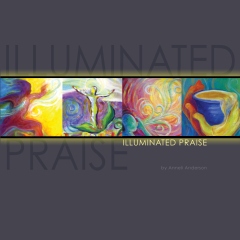 This book is 100 pages of a collection of my paintings mainly painted live during a time of worship or teaching of God's word. A few were commissioned pieces for use in worship settings.